Mathematics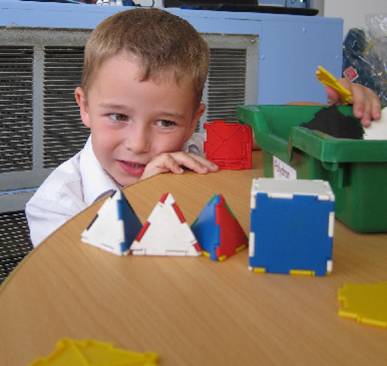 Mathematics is a key life skill. Through our work at Southfields Primary School in Mathematics, children will gain the knowledge and understanding to confidently use their skills to work within our world today.
The new National Curriculum states that:
"Mathematics is a creative and highly inter-connected discipline that has been developed over centuries, providing the solution to some of history's most intriguing problems. It is essential to everyday life, critical to science, technology and engineering, and necessary for financial literacy and most forms of employment. A high-quality mathematics education therefore provides a foundation for understanding the world, the ability to reason mathematically, an appreciation of the beauty and power of mathematics, and a sense of enjoyment and curiosity about the subject."
At Southfields we see Mathematics very much as a multi-discipline, cross curricular, interconnected subject which should encourage creativity. As much revolves around the discussion about Mathematics between talk partners as it does the completing of calculations. We want children to see Mathematics as being relevant to their world and applicable to everyday life as well as being something that they will need as they move on through their school life and ultimately to the world of employment. To that end, a high-quality, inter-related and creative Mathematics experience should be one that develops the children's ability to think mathematically and one which allows them to apply the tools to which they have been exposed in a variety of ways.
Following the introduction of the new National Curriculum in 2014 the emphasis has been to ensure that all children:
Become FLUENT
REASON and EXPLAIN mathematically
Can SOLVE PROBLEMS
This means that children need to be regularly exposed to opportunities involving increasingly complex problem solving which allows them to apply their mathematical knowledge. In doing so they should be encouraged to develop an argument and line of enquiry which they can prove and justify using mathematical vocabulary. This includes the ability to break down problems, both routine and non-routine, into a series of steps.
Aims and Objectives
We want to teach Mathematics in a way that:
delivers Mathematics in line with the new National Curriculum guidelines
ensures the delivery of Mathematics is filled with cross curricular opportunities
creates a lively, exciting and stimulating environment in which the children can learn Mathematics.
develops mathematics skills and knowledge accompanied by the quick recall of basic skills.
encourages children to use mathematical vocabulary to reason and explain
allows time for partner talk in order to stimulate and develop a curiosity for Mathematics
challenges children to stretch themselves and take risks in their learning
creates a sense of awe and wonder surrounding Mathematics involving parents andGovernors
creates an enjoyment of Mathematics for all children whatever their needs, talents or cultural background via a positive attitude.
ensures that children in Key Stage 1 are secure in their understanding of number and relationships.
Provides children with the opportunity for low entry-high ceiling challenges.
Our Approach
A calculations policy was developed and revised in line with the new National Curriculum requirements in 2014 (please see our Calculations Policy tab to the right). The programmes of study set out within each domain in the new National Curriculum will be used to ensure children get the learning experience that is required.
It is important that children are allowed to explore Mathematics and present their findings not only in written form but also visually; the school will adopt the CPA approach: concrete, pictorial, abstract. This will allow the children to experience the physical aspects of Mathematics before finding a way to present their findings and understandings in a visual form before relying on the abstract numbers.
All staff at Southfields attend staff meetings that regularly have a Mathematics focus, which provide information on current thinking and introduces them to new teaching methodologies and ideas. In addition to this, teachers are given further CPD opportunities to develop their Mathematics teaching and learning, particularly in addressing the requirements of the new National Curriculum in relation to assessment and moderation at the end of each Key Stage.
It is important that parents and carers are actively involved in the children's education. In order to help keep them informed of what is happening within school we will run annual information sessions, alongside the Curriculum Open Days, which will look at current developments within the school, projects in which we are involved, new methodologies for delivering the teaching of Mathematics and also any new statutory changes such as curriculum or assessment/testing arrangements.
Planning and Assessment
At Southfields we use the National Curriculum Programmes of Study (2014) as a basis to form the coverage needed to be taught in each year group. In addition to this, teachers have access to Abacus Evolve planning, with linked Interactive Teaching Programmes (ITP's) and resources. This resource is a starting point, from which teachers create a short term plan from adding and changing some of the suggested activities and teaching. It outlines a suggested order in which to teach mathematics, which is in line with the 2014 National Curriculum.
Teachers will work in their Year group teams to plan and deliver lessons that suit the particular learning styles of the children within that year group. They will use their own judgement and use formative assessment to ensure a flexible approach is adopted which recognises the pace of learning within the classroom. Individual, paired and group work will be used across a series of lessons and children will be given a daily problem to challenge, assess or demonstrate their learning.
Across a range of lessons children should be allowed to engage in mathematical discussion, investigations, problem solving, practical experiences and written methods, as well as allowing time to demonstrate their understanding through gap tasks.
In order to inform planning and to assess children's progress, teachers will use the Head Start Assessments and complete a GAP analysis at the beginning of each domain and at the end of each term. This will then be shared with the co-ordinator to give an overall picture of the schools understanding in each area of the programme of study. Teachers will use Target Tracker to track the progress of the children informed by annotated plans, work in books and summative assessments, which will be monitored by the co-ordinator.
Children will be provided with feedback either verbally or through written marking. This will include their next step to further develop, clarify understanding or challenge the children's learning. Often, in order to clarify understanding of a concept, children will be set gap tasks. When marking, teachers should adhere to the school's Marking Policy.
Teachers are expected to produce medium term plans outlining the intended areas they propose to teach each term. These should include references to cross curricular links, ICT links for resources the school have bought into (Mathletics, RM EasiMaths and Mathswatch), links to everyday life and homework tasks.
Short Term Planning
Weekly plans are written by the class teacher ensuring the requirements of the key objectives from the National Curriculum (2014) Programmes of Study are covered.
Each lesson will contain a 'Big Question' that the children will need to solve. This should be used either at the beginning of a lesson to diagnose children's prior knowledge and understanding and teach accordingly or in the middle/end of a lesson to assess understanding and provide further challenge of applying a skill taught. The 'Big Question' could be practical, written, an investigation or discussion based but evidence should be recorded in some form.
Weekly plans should indicate which basic skills will be taught/practised each day in addition to the learning focus. Plans should also show the key vocabulary to be used and taught for the day/week, highlight how other adults in the classroom will be used to scaffold learning as well as highlight key questions that are to be asked during the lesson, linked to Blooms Taxonomy.
Calculators
Calculator skills are no longer taught as part of the Primary Mathematics Curriculum (2014) however as a school we will use calculators as we feel appropriate.
Monitoring and Evaluation
The policy and practice will be monitored and evaluated by the Mathematics co-ordinator and the Senior Leadership Team. Teachers are observed as part of the School Development Plan to achieve high expectations in Mathematics teaching and learning. Feedback is given to the individual teacher orally by the observer and a written response will follow. Targets are set to address areas of development with a measurable timescale.
The co-ordinator is responsible for: keeping staff up to date on the curriculum area, offering advice, managing resources, working within a budget, analysing assessment results, organising INSET session/days, monitoring planning and ensuring any training needs of individual teachers are met, e.g. NQT's are supported.
Resources and Displays
Mathematics resources are located in each classroom throughout the school in addition to the resources rooms located in Key Stage One and Two respectively (KS2 room is located beneath the second stairwell, KS1 resources room is located in the cupboard towards the back on the hall).
Resources kept in the classroom should be accessible daily, clearly labelled and visible to the children. Additional resources that are borrowed from the resources rooms are the responsibility of the Teacher who collects them, should be signed out/in and returned to the correct location promptly after they have finished using it. The Teacher should inform the co-ordinator of any damages or losses so that they can be fixed/replaced if necessary.
Online resources are the responsibility of the Teachers and Teaching Assistants to ensure that children are using them efficiently. The co-ordinator will provide log in information for Teachers and Teaching Assistants to access any online resources and training provided half termly to support staff with using these effectively. It is the Teachers responsibility to notify the co-ordinator of any issues that arise with online resources to ensure that these can be rectified.
Each classroom should have a display dedicated to Mathematics; this could be in the form of a working wall, strategy board or problem solving area and pupil voice should be evident alongside children's work.