Online Learning
Please click on the learning link pictures to open a new browser. Why not try the E4 link on the side bar to the left which will link to many more educational games.
BBC Bitesize is a wonderful online resource to support children of all ages with learning games and activities click on the links above to look at this interactive site.
At Southfields we enjoy our Mathematics and we have purchased additional resources for the children to use at home as well as in schoo to help with the learning firstly the award winning Mathletics is the next generation in learning, helping students enjoy maths and improve their results setting both personal targets as well as joining competitions with other schools nationally and across the world - see our web site area for more details of how we are doing as a school. Maths Whizz is an amazing site which support teaching and learning with video clips and practice questions in many different areas of mathematics.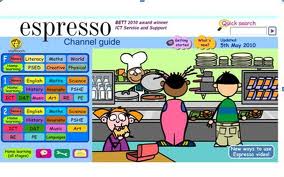 Espresso offers a range of content and tools that is simply unrivalled so at Southfields we simply had to subscribe to it for our children. It covers all year groups and subjects and even includes SATs-related resources. Espresso specialises in taking educational concepts and applying a 'real-world' context through video and other multimedia elements. This encourages pupils to think beyond the simple fact, resulting in the deeper and wider learning of concepts.
At Southfields we love to read and if you would like to link the reading your child does in school during guided teacher and teaching assistant sessions please click on the icon above and your child will have their own unique log on also purchased by the school.

Spellanywhere
Practise high frequency words and spelling patterns.
Frenchanywhere
Practise your French vocab.
Astonishing Science from the Science Museum
Lots of fun, ineractive games.